by Simona Isabel Compagni Smits *
The hardest part of a trip is having to tell the stories you've experienced, because you can't really do them justice. But I will try my best, since this is a story, I believe, worth telling.
It all started with a choice and a little bit of courage. I received an email from the university with information about volunteering, and since I´ve volunteered a couple of times in the Dominican Republic, I thought it would be a good idea to join. What I did not expect was that there were so many people willing to volunteer and so little chance to be chosen. They explained us that we had to take a language test to make sure our level was good. When I asked when the test was due, the answer was "tomorrow". Tomorrow. That night I took the decision to give it a try and see where this choice would have taken me. I filled in the form and got ready to take the exam the following day.
I waited a few weeks to receive an answer and, as time went by, I had even forgotten about it. Then, one day, I received an e-mail written in Italian and soon sent it to my friends for translation. They had accepted me! In the next few months I had to get everything ready, meet the girl I was going to share this month and a half with, and finish my exams. Little did I know there was a lot waiting for me in Guatemala.
We left on the 15th of July, and after about 20 hours of travel, we arrived in the place that we would call home for a while. In the following days, we were introduced to all the members of the staff and the beneficiaries, and explained what the project was about. Federica and I were placed in the Marketing and Legal area. We helped prepare the documents, compile statistics and promote the project in different ways. We also did other types of jobs such as helping in the kitchen, painting, selling products and talking to customers.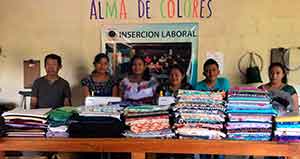 The project is located in San Juan la Laguna, a small Mayan town close to Lake Atitlán. Unlike most of Guatemala, this town is very safe, which was a big surprise for us. The project, Alma de Colores, is born thanks to Centro Maya. This is a sort of "safe house" for people with disabilities since the government and the society do little to safeguard and support them. Centro Maya welcomes kids with disabilities and offers them different types of therapies, transport, and much more. "Alma de Colores", literally "colorful soul", is a project born to address the following answer: What will these kids do once they grow up?
Five areas were created (craftsmanship, sewing, bakery, biological gardening and a restaurant known as "Comedor") with the aim to provide jobs that would help them make a living. The project moves forward thanks to the commitment of the people who work there, the locals and the tourists who buy their products, as well as to the support coming from some organizations (such as COE). In the future, they plan to become sustainable and provide more job opportunities for people with disabilities.
Another important factor that gave value to my stay in there is that, after some time, we had the chance to know the beneficiaries of the project really well and create a strong bond with them. If you asked me to describe them, it would be very hard, because you have to go through that situation to understand it.
What I can tell you, however, is that there is not a bad bone in the body of the people working for Alma de Colores. They are always trying their best to push the project forward and help each other. While some may think of them as weak and incapable of doing many things, I strongly believe they are hard working, loving, patient, committed and honest people. In the month and a half spent there, I was amazed by how much this project means to them, and I am now fully convinced that it was worth participating in the project. So if you are reading this, I hope that with these few words I was able to convince you to join. Take a chance, make a choice, you won´t regret it.
* 19 years old, from La Romana (Repubblica Dominicana), international student in Scienze politiche e delle relazioni internazionali - International Relations and Global Affairs, faculty of Scienze politiche e sociali, campus of Milan